Experience a Life Free from Anxiety
Unearth empowering tools, manage your anxiety and courageously embrace each day with renewed energy and peace. A life of possibility awaits you.
The real cost of anxiety
Anxiety's grip reaches deep and can impact every aspect of your life.
Mental well-being
Anxiety fuels stress and negative thoughts, deeply affecting your emotions. Prioritise support to reclaim your balance and nurture your mental health.
Relationships
Anxiety stifles expression and fuels tension and avoidance. It hampers communication, leaving us feeling disconnected. Let's find healing together.
Work performance
Anxiety hinders focus, decision-making and productivity, making it challenging to be present, meet deadlines and fulfill your responsibilities.
Spark inner change with clinical hypnotherapy
Unlock the transformative power of hypnotherapy through weekly sessions and tailored tasks, guiding you towards a harmonious mind and body.
Empty space, drag to resize
Effective coping strategies
Discover vital coping strategies that empower you to navigate life's challenges effectively – and in a calmer state.
Subconscious mind
Enjoy guided hypnotherapy sessions designed to connect your conscious and subconscious minds.
Self-reflection & awareness
Dig deep into where your anxieties and behaviours stem from. Gain a greater awareness of your warning signs, choices and feelings.
Here's what you can expect
Begin each session with guided hypnotherapy and enjoy weekly focuses, tasks and reflections.
WEEK 1
Planning for your anxiety
Learn practical coping mechanisms, recognise warning signs and thought patterns, and create a personalised plan to conquer your anxiety.
WEEK 2
Deep breathing techniques
Focus on deep breathing, a powerful tool to manage stress and anxiety. Learn to relax your body and calm your mind.
WEEK 3
Reshaping your belief system
Deepen your self-awareness by questioning any ingrained, outdated beliefs. Embrace new perspectives that foster healthy thoughts.
WEEK 4
Connecting your conscious & subconscious
Gain insight into the importance of your efforts. Visualise a peaceful future, embrace positive self-talk and make daily cognitive reprogramming a habit.
WEEK 5
Wrapping up & moving forward
Reflect on and celebrate your progress. Embrace your transformative journey and understand how to continue towards a calmer life.
Get to know Rhonda
Rhonda Jansen is a devoted Clinical Hypnotherapist, empowering transformations with compassion.
Passionate about people
Rhonda knew her calling was to understand the connection between the mind, body and spirit. She loves working with people to create lasting transformations.
Seasoned mindset coach
With 23+ years' of experience, Rhonda has made a name for herself in the well-being industry, guiding countless people towards profound personal growth.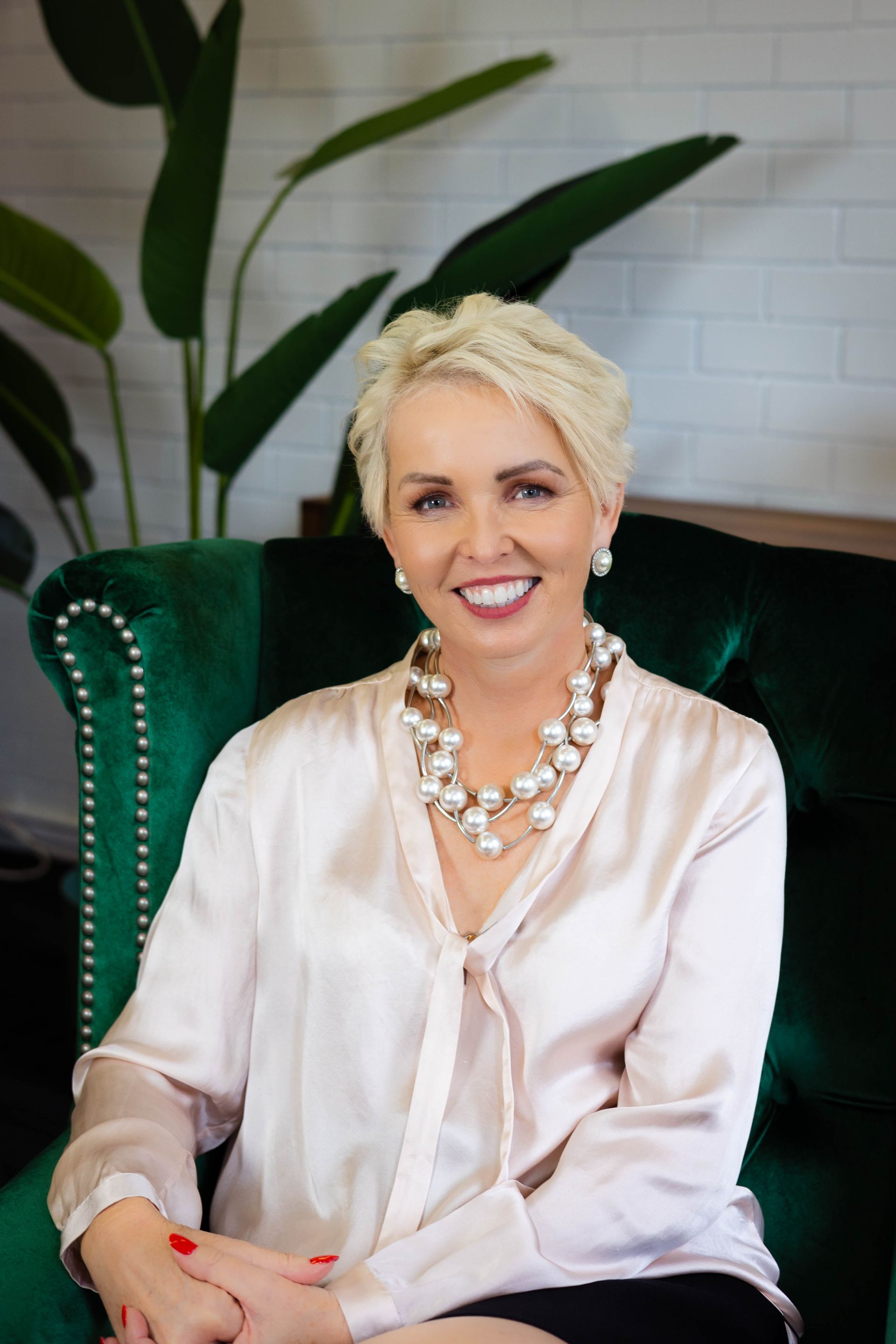 Expert-level training
She has expanded her expertise with an Advanced Diploma in Clinical Hypnotherapy and Psychotherapy.
Leading hypnotherapy network member
Rhonda is a proud member of The Australian Hypnosis Alliance (TAHA), a leading network for clinical hypnotherapists.
Additional support & services
Rhonda offers a variety of transformative hypnotherapy services tailored to your unique needs. Experience the freedom you deserve.
Clinical hypnotherapy
Break free from depression, poor sleep, weight problems and more.
Personalised recordings
Receive a personalised hypnotherapy recording from Rhonda.
Online sessions
Virtual sessions are available and are equally impactful as face-to-face.
Testimonials
What Rhonda's clients have to say
My anxiety levels would go through the roof. After the first session with Rhonda, I felt amazing. I am so grateful for Rhonda for returning the sense of joy and excitement in my life.


Empty space, drag to resize
Olivia
My anxiety has diminished by 90% and I know it won't be long before it has totally diminished. Yesterday I had a meeting with my boss and I walked in calmer and more confident and didn't react at all in the meeting.

Empty space, drag to resize
David
Every day I feel stronger, calmer and more confident. I really appreciate your ability to promote positive change in myself and support me in growing stronger with my self-esteem.


Empty space, drag to resize
Emily
Frequently asked questions
Hypnotherapy is an evidence-based modality that allows us to become receptive to positive ideas at a subconscious level.
The term "hypnosis" was coined by Dr. James Braid in the 1840s, derived from the Greek word for "sleep". Over time, it's been proven that there's a powerful connection between our subconscious and conscious minds, leading to physical, emotional and psychological benefits.
How does hypnotherapy work?
Hypnotherapy is a powerful practice that induces a profound sense of relaxation, facilitating the profound reshaping of beliefs, feelings and behaviours.
Hypnotherapy opens the door to the subconscious mind, accessing our deepest motivations. It helps to reinforce or 'update' our thoughts, beliefs and feelings, harnessing our determination to bring about positive change.
Do I have to live on the Sunshine Coast?
No, you do not have to live on the Sunshine Coast. This course is entirely self-paced and can be completed wherever, whenever.


Each week, you will receive recorded guided hypnotherapy sessions with a specific focus and course materials. Even after the 5-week course duration, you will continue to have access to these materials.
How long does the course take each week?
I've thoughtfully designed the course to fit into your busy schedule. Each week, expect to spend about an hour enjoying a video and hypnotherapy session. Set aside another 20 minutes for some reflective homework.
For the best results, I'd recommend listening to the hypnotherapy session at least twice more during the week, ideally before bedtime. This would take an additional 50 minutes per session.
How do I access the course information each week?
Once you register, you'll create a login to access your course. Each week, new content will be available to you. The best part is you can log in and learn at your own pace anytime that suits you. Simply visit our website, log in, and your course materials will be ready to guide and enlighten you.
Rhonda Jansen is a proud member of The Australian Hypnosis Alliance (TAHA), a prominent network that unites leading clinical hypnotherapists and industry professionals.
Pricing &
payment
NEW PRICE
$229
Learn at your own pace with this 5-week self-guided course. For less than $50 per week, enjoy insightful videos, audio recordings and PDFs delivered straight to your inbox.

Buy now, pay later.
Start your journey today without worrying about upfront costs.
What you do and say today will create your tomorrow.
#Read | #Watch | #Learn | #Improve
You have the power to achieve great things.
It's time to begin your journey towards achieving the freedom and peace of mind you deserve.
Let's keep in touch
Stay connected and be the first to know about upcoming events and courses.
Created with